Please click here to view this week's specials.
Your cart is currently empty
Carlson Fish Oil
Price:
0.00
$54.50
$35.43
We are currently out of stock of fish oil. Our clients have mostly expressed a preference for Elite Gems, which provides omega-3 fatty acids but in capsule form, so we continue to stock Elite Gems in our catalogue. If you prefer this liquid fish oil without capsules, please use our contact form to let us know, and we will look to get more in stock.
Carlson Fish Oil is an excellent source of DHA and EPA, two omega-3 fatty acids that can help to keep your heart and blood vessels healthy, decrease inflammation throughout your body, and promote optimal nervous system health.
1 Large Glass Bottle
16.8 ounces (500 ml) of Lemon Flavored Carlson Fish Oil
More Details:
If you have been a long time subscriber to my natural health newsletter, you know how important two omega-3 fatty acids, DHA and EPA, are to your overall health, particularly to your cardiovascular and nervous systems.
DHA and EPA are so critical to human health that I am convinced that high quality fish oil or cod liver oil should be a regular part of most people's diets.
The major difference between cod liver oil and fish oil is that fish oil does not contain vitamins A and D. My wife and I decided that since she has been getting lots of sun exposure in the mid-afternoon these days, in order to ensure that she doesn't end up with too much vitamin D in her system from the sun and food sources combined, she will use fish oil to nourish her body with DHA and EPA until she is unable to get much sun exposure in the fall and winter, at which time she will switch back to cod liver oil.
I will be sticking with cod liver oil throughout the summer months because areas of my skin burn quite easily when I am out in the sun for long stretches at a time, so I usually stay indoors during the mid-afternoon.
In looking through my patient files from January of 2002 to December of 2005, I found 82 patients whose blood levels of Vitamin D I had records for. Eighteen of these patients were from Ontario, and the rest were from all over the States. Forty-eight of these patients were taking cod liver oil on a regular basis. And none of them, even those from California and Florida, had toxic blood levels of Vitamin D.
Based on the data that I have to go on as well as research that I have done on Vitamin D toxicity, I believe that most people are just fine taking cod liver oil throughout the year. However, I recommend switching from cod liver oil to fish oil in the following circumstances:
During the warm summer months, particularly if your skin get lots of sun exposure and/or you eat lots of fish that are naturally rich in vitamin D, such as salmon, mackerel, and sardines
During the warm summer months if you are pregnant or nursing
Throughout the year if you live in an area where the weather is warm year-round and your skin is regularly exposed to sunlight
If a blood test shows that your vitamin D level is greater than 50 ng/ml (125 nmol/l)
If you would like to switch from cod liver oil to fish oil during the warm summer months or even year-round, I recommend the same company that I recommend for cod liver oil: Carlson Labs in Arlington Heights, Illinois.
Just as it is with their cod liver oil, Carlson bottles their high quality fish oil in a way that ensures maximum freshness and nutritional potency. Their fish oil is regularly tested for potency and purity by an independent, FDA registered laboratory and found to be free of detectable levels of mercury, cadmium, lead, PCB's and 28 other contaminants.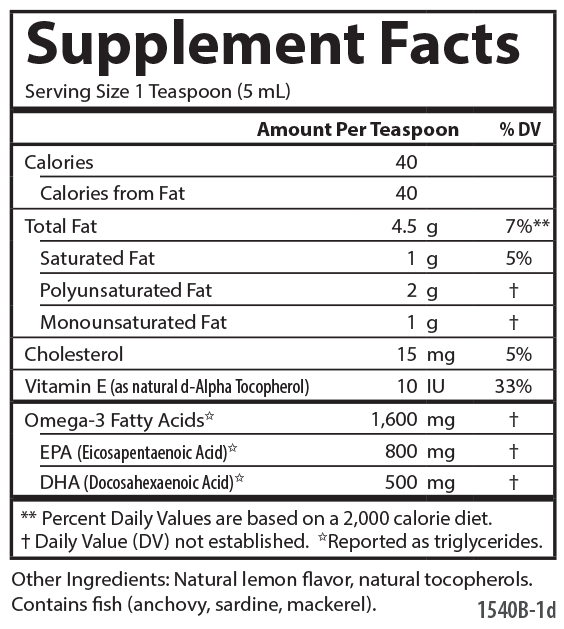 Add Your Review
Currently there are no reviews for this product. Share your opinion with others, be the first to write a review.
Please Note
Many of our formulas come with full guarantees; please read the description box of each item that you are interested in for details.
All prices are in US dollars.
If you order from outside of the United States, your customs agency may or may not apply a customs tax and applicable local sales tax(es) to your package.
Newsletter Signup
Each week, receive free tips on how to experience your best health as you age.
Your e-mail address is kept private and you can unsubscribe anytime.