Please click here to view this week's specials.
Your cart is currently empty
Soft Ocean Dreamland: Natural Sleep Aid
If you need help getting restful sleep, you may want to try using Soft Ocean Dreamland, a 50-minute audio track that's designed to help users fall into a deep, peaceful, and refreshing night's sleep.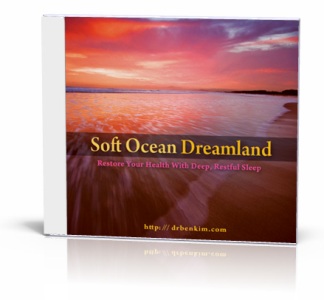 Your body produces the bulk of your supply of healing and restorative hormones - like growth hormone, testosterone, and erythropoietin - while you sleep, so getting restful sleep every night is a top requirement for optimal health - it ranks right up there with what you eat.
Soft Ocean Dreamland employs groundbreaking technology that acts as a tuning fork for your brain, promoting it to move first into a dreamy theta state, and then into a deep delta state, where you'll enjoy deep sleep and healthy dreaming.
One of the best features of this highly effective natural sleep aid is that it can be used with or without headphones. If headphones or earphones aren't to your liking, you can let Soft Ocean Dreamland do its work through any CD player with speakers.
Layered in with the vibrational technology in Soft Ocean Dreamland are gentle and soothing sounds from a quiet beach. As your brain is gradually nudged into a deep state of relaxation, you'll hear gentle waves rolling in from the ocean.
Soft Ocean Dreamland is actually a track that is featured in our popular Your Best Weight and Health program. It's now available as a stand-alone audio CD for people who need a highly effective natural sleep aid, but who don't feel that the entire Your Best Weight and Health program is for them.
Quotes from People Who Use Soft Ocean Dreamland:
"I don't know how this works, but it puts me to sleep in minutes. I would have paid the entire program fee (for Your Best Weight and Health) just for this one track. Thanks so much."
- Sandra H., Mill Valley, CA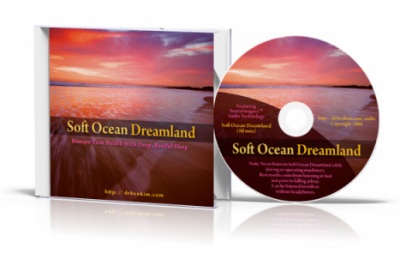 "I used to use EarthRain to help me go to sleep, but Soft Ocean Dreamland works even better. Now, I use EarthRain for meditating and Soft Ocean Dreamland as my "deep sleep" tool. I'll be sending a copy to my mother, who has had problems sleeping for decades."
- J. Wilkins, Boston, MA
"I used a prescription for 7 years before turning to a natural supplement that was supposed to increase melatonin in my blood. It worked okay, but this sleeping track is all I need. No more pills...thanks Dr. Kim!"
- Janet K., Jersey City, NJ
"Soft Ocean Dreamland is amazing. Even with the city lights and constant hum of traffic, this helps me sleep every time. I can actually feel it making me sleepier by the minute. The trick for me is to keep my focus on the ocean waves...so relaxing and peaceful. Thank you lots and lots!"
- Erin K., Seoul, Korea
"Your suggestion to listen to dreamland without headphones made a huge difference. Thank you again for including this in the program. By the way, I don't know if it's the power of suggestion or coincidence or something like this, but I've been dreaming again."
- David P., Vancouver, BC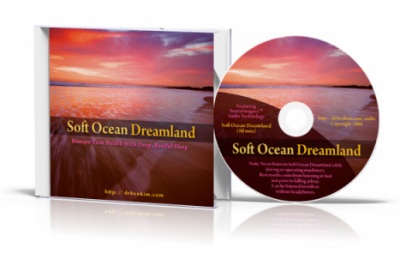 Retail Price: $29.95 USD
Our Price: $24.95 USD
Add Your Review
This is a tremondous CD for sleep. Whenever I am having trouble falling asleep, I put this CD on and within a short time I am asleep. If I wake up and can't go back to sleep, I put it on and usually fall back to sleep before it is half over! I can't imagine life without it anymore. Thank you, Dr, Kim.
I sleep with my 3 years old son and i usually put this CD so that we both can fall asleep! We call it...the beach song!
For me, this is the BEST CD to help with sleep. It is so soothing to listen to the ocean waves WITHOUT interjecting any music. I find that any music wakes me up, but the 'white noise' from the waves on this CD are just perfect. I have suffered with insomnia for along time...not just the occasional sleeplessness....but prolonged, exhausting insomnia and this CD helps. I'm sure you will like it! Thanks Dr. Kim for a GREAT CD!
Please Note
Many of our formulas come with full guarantees; please read the description box of each item that you are interested in for details.
All prices are in US dollars.
If you order from outside of the United States, your customs agency may or may not apply a customs tax and applicable local sales tax(es) to your package.
Newsletter Signup
Each week, receive free tips on how to experience your best health as you age.
Your e-mail address is kept private and you can unsubscribe anytime.