Please click here to view this week's specials.
Your cart is currently empty
Organic Maca, Cacao & Yacon Blend
Price:
0.00
$29.95
| | | |
| --- | --- | --- |
| Quantity: | 2+ | 4+ |
| Price: | $27.95 | $25.95 |
This is a superfood blend that has been in the making for the past few years. Through extensive research and testing, we were able to create a unique blend of organic maca, cacao, and yacon that supports health in a number of ways.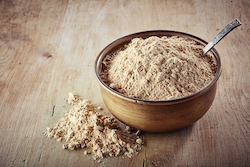 Common health benefits observed by those who took part in the research and testing process include improved energy, stamina, memory, mood, joint function, digestion, and even loss of excess fat tissue.


Our raw and organic maca, cacao, and yacon are sourced directly from small family farms
in Peru. From harvesting to gentle milling at
low temperatures, great care is put into preserving the many
health-enhancing nutrients in this powerful superfood blend, which can
be added to smoothies, drinks, cereals, and baked goods. When blending
with healthy liquids, we suggest combining 2 tablespoons of this blend
with 12 ounces of liquid.
Organic Maca:
Raw organic maca is the primary ingredient in this blend.
Maca is a plant that is native to South America; it has long been used as a medicinal herb to increase stamina and support optimal endocrine health.

Sometimes called Peruvian ginseng, history books tell us that maca was used by Ancient Peruvians to increase fertility, enhance sexual function, and improve memory and mood. Today, we understand that these effects of taking maca can be attributed to it being an adaptogen that has positive effects on hormone and energy levels.

Maca contains over 20 amino acids, including 8 essential amino acids, as well as 20 health-enhancing fatty acids. Maca is also a good source of calcium, magnesium, vitamins B-1, B-2, B-6, C, and E, as well as additional minerals and phytonutrients that function as antioxidants to protect cellular health.


Our maca comes from high altitude mountainous regions in Peru; the roots are carefully dried at a low temperature - no higher than 118 degrees F - and gently ground into the highly absorbable powder that goes into our blend.
Legend has it that Incan warriors ate the roots of maca plants before battles to increase stamina and energy.
Organic Cacao:
Our raw organic cacao powder is made by cold-pressing shelled, organic cocoa beans and separating the fiber of the beans from the natural oil in the beans. This antioxidant-rich powder is far healthier than conventional cocoa powders on the market that are heavily processed.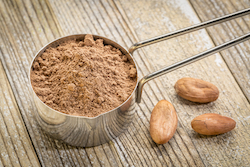 Raw organic cacao is abundant in flavonoids, which are nutrients with powerful antioxidant properties - these are the same nutrients that make berries, grapes, and green tea helpful to our health.

Beyond protecting our cells from premature aging, the flavonoids in cacao are highly supportive of cardiovascular health and healthy blood circulation, primarily by supporting natural production of nitric oxide.

Organic Yacon:
Yacon is a crisp
root vegetable that is indigenous to South America, mainly the northern and central Andes. Sometimes called the Peruvian ground apple, yacon is rich in fructooligosaccharides that make for excellent fuel for microorganisms that sustain healthy gut ecology.

Yacon provides a hint of natural sweetness without putting stress on blood sugar and insulin levels; in fact, being an ideal prebiotic that fuels growth of health-enhancing bacterial populations in the gut, yacon can actually lower the body's glycemic load. As healthy bacteria work away at yacon, the end products of fermentation of the fructooligosaccharides serve as signaling molecules or substrates that encourage metabolism of fat and balanced regulation of blood glucose.

Beyond its fructooligosaccharides, yacon is a good source of calcium and phosphorus, so between the maca and yacon in this blend, there is plenty of easily absorbed plant-derived calcium to nourish your body with.

Please feel free to click here for a look at the label for our Organic Maca, Cacao, and Yacon blend:





Ingredients: Organic Maca, Organic Cacao, Organic Yacon
Net Weight: 1 pound (453 grams) in a re-sealable package.
Store in a dry location at room temperature away from sunlight.
Country of origin: Peru


Please note that the actual re-sealable pouch is the silver colour shown below, not the white one used for presentation above.
Add Your Review
This tastes pretty good. I was impressed. Not too sweet and it doesnt have that dreaded protein powder taste. I blend it up with a banana, almond milk, and some ice and drink it before I workout in the morning.
Please Note
Many of our formulas come with full guarantees; please read the description box of each item that you are interested in for details.
All prices are in US dollars.
If you order from outside of the United States, your customs agency may or may not apply a customs tax and applicable local sales tax(es) to your package.
Newsletter Signup
Each week, receive free tips on how to experience your best health as you age.
Your e-mail address is kept private and you can unsubscribe anytime.